'SAS: Who Dares Wins' host Ant Middleton has been dropped by Channel 4. The move has been labelled by some as the latest salvo from the culture cancel agenda.
The channel has defended its decision to cut the popular presenter. The reason given was due to Mr Middleton's "personal conduct".
Middleton has been released after he generated controversy back in June 2020, when he referred to BLM supporters as "scum". He was also a vocal opponent of Covid-19 restrictions. One other comment, made by the presenter, urged the public to "carry on as normal" during the pandemic.
A spokesman for Channel 4 commented that: "Ant Middleton will not be taking part in future series of 'SAS: Who Dares Wins'. He added: "It has become clear that our views and values are not aligned and we will not be working with him again."
Middleton himself chose to be optimistic about the incident: "Big respect to my fellow DS – its been a journey I'll never forget. Thanks to everyone that took part and made the show what it is. Really excited about the future and what's coming this year. Stay positive."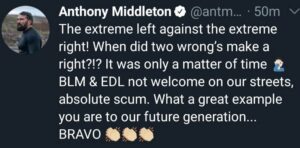 Middleton's tweet called out the Marxist BLM movement, as well as the fascist EDL movement. This tweet, which calls for an end to extremism and hatred, was condemned by Channel 4. The tweet was posted by Middleton in the aftermath of BLM rioters looting shops and setting small businesses ablaze across the USA.
This is not the first time Middleton has been involved in controversy. He was previously axed from Soccer Aid over fears that he might "offend minority players".
Originally, Middleton posted a response to the tweet above. He apologised for any offence that he may have caused, explaining that he "was trying to make a comment about violent protesters of any kind, who I despise. I accept that my tweet was inappropriate and offensive and would like to apologise unconditionally. I am anti-racist, anti-hate and anti-violence."
Nonetheless, he has now been dropped by Channel 4 over 6 months after the incident took place.