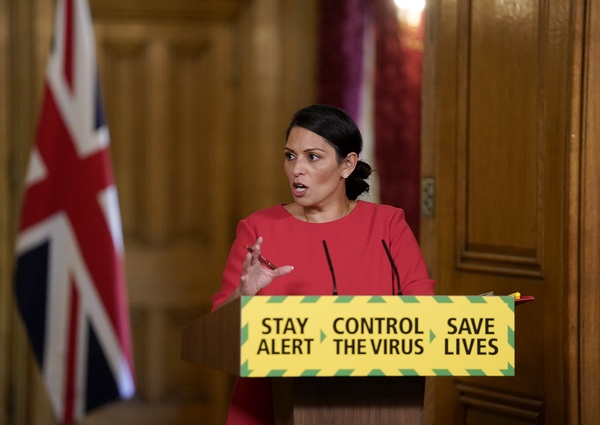 Home Secretary Priti Patel is considering an amendment to the Nationality and Borders Bill. The proposed change would give UK border authorities the power to turn back French vessels carrying asylum seekers. It has also been reported that the proposed amendment would see more legal protection given to Border Force staff. This includes instances where death or injury occurs.
The frontbencher was recently quizzed on the subject on The Andrew Marr Show. She commented: "We are working to absolutely go after the people smugglers and reduce the number of crossings; let me be very clear about this. This is the work of this Government, and it is night and day. There is no complacency here. But it is difficult, and that is why we are bringing the Nationality and Borders Bill forward. That is why we are bringing legislation forward. That is why [the] Border Force have new powers and will have new powers in terms of returning boats or pushing back, but also intercepting at sea – all within the law, I should say as well."
The Bill itself has stirred up controversy in the UK Parliament. Shadow Home Secretary Nick Thomas-Symonds has been especially scathing of post-Brexit immigration policy. When asked about the Bill, he commented: "The cruel irony of this Government's approach is that it is weak on taking action against criminal gangs – and brutal when it comes to orphaned children from war zones."
According to Migration Watch UK, the final net migration figure for the year ending March 2020 was 313,000. This is the highest reported figure since 2015, when it was upwards of 329,000 for that year.
Immigration law experts have also attempted to throw cold water on the Home Secretary's comments. When questioned by The Guardian, immigration barrister Colin Yeo was skeptical about whether the policy would actually be enforced: "It is hard to see how it could be reasonable to leave someone to either drown at sea or in a small boat which doesn't have enough fuel to reach land."
Patel is currently under mounting pressure from the public, and from within her own party, to become tougher on illegal immigration. It remains to be seen, however, whether this proposed amendment will actually be successful in practice.