Angela Merkel has defended President Trump against his Twitter ban, as Twitter stock fell by more than 10%.
Twitter had placed 'disclaimers' and 'fact checks' on Trump's tweets throughout the Presidential election and, on Saturday 9th January, the President of the free world was permanently banned from the social media platform. He had over 88 million followers.
The decision came after a particular group of Trump supporters stormed the Capitol Building last week, disrupting a joint session of Congress assembled to count the electoral votes and formalise Joe Biden's election victory as President of the United States.
Trump told the rioters: "You have to go home now. We have to have peace, we have to have law and order."
Despite this, Twitter removed Trump, saying it was "due to the risk of further incitement of violence".
The German Chancellor has long been a critic of President Trump, even saying she was "furious and saddened" by many of Trump's tweets after the US Presidential Election.
But today her spokesman, Steffan Seibert, stated: "The Chancellor considers it problematic that the accounts of the US President have been permanently blocked."
Mr Seibert said the Chancellor felt that, while the social media giant was right to flag the content, banning him was "a step too far".
Donald Trump's Facebook account has also been banned until he leaves office on 20th January.
Many of the President's supporters have moved to Parler, a social media site that prides itself on free speech and has refused to censor content. However, it went offline on Monday after Amazon kicked Parler off its servers.
The action by Amazon Web Services came after Apple and Google pulled the app from their stores over the weekend.
Donald Trump Jr. has hit out against Big Tech companies censoring free speech, saying: "Big Tech has totally eliminated the notion of free speech."
Trump Jr. also tweeted his views that there are many people who remain on Twitter who are "threatening genocide to entire countries", but have not been removed, as below: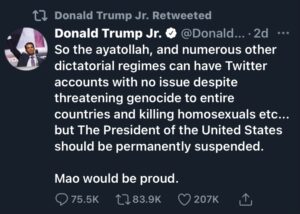 The President said he has been in negotiations with "various other sites" and would have a "big announcement soon", possibly building his own platform.
Twitter stock fell by more than 10% on Monday, wiping $5 billion from Twitter's market capitalisation.