With an already grim outlook in the polls, Sir Keir Starmer's "New Chapter" has not left the mark he intended.
Yesterday, Sir Keir Starmer set out his new economic plan for the Labour Party, to rival the upcoming March Budget from Chancellor Rishi Sunak.
The speech was meant to be a pivotal moment in his efforts to regain the trust and support of the British people, after Labour's catastrophic failure in the 2019 General Election. A "New Chapter" is certainly needed, given recent polling data.
Westminster voting intention:

CON: 42% (+1)
LAB: 37% (-)
LDEM: 7% (-1)
GRN: 3% (-1)

via @SavantaComRes, 12 – 14 Feb
Chgs. w/ 07 Feb

— Britain Elects (@BritainElects) February 18, 2021
Conservative gains are not a good sight for the Leader of the Opposition, who has recently been under internal pressure from hard-left areas of the party on his leadership strategy. For Starmer, yesterday's speech was his defining chance to outline his economic plan and underscore the failures of the Conservative Party over the past decade.
The people were ready to hear about Labour's New Chapter, and Starmer was poised to deliver one of the most important moments in his campaign to make Labour electable again.
And yet, the reaction from both left and right has not been what Starmer so desperately wanted or needed. Instead, the response was this:
New Savanta poll sees Boris's net favourability overtake Starmer's:
– UK Government -2% (+10)
– Boris -2% (+6)
– Hancock -3% (+6)
– Starmer -4% (-2)

Who would make best PM?
Boris 43% (+5)
Starmer 27% (-4)
Don't Know 30% (-2)

— Calgie (@christiancalgie) February 18, 2021
It appears Labour's "New Chapter" may never be opened. Some policies that were scarcely mentioned in the speech included extending the cut in VAT for hospitality and leisure, and extending the furlough scheme.
Both of these policies have ranked quite high in popularity according to YouGov Chat, which currently states that 51% of the UK supports extending the furlough scheme and that, out of a list of economic recovery policies, VAT cuts were ranked the most popular choice.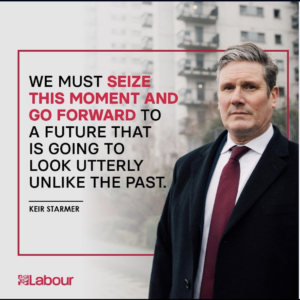 So why the shift in approval? Perhaps what has undercut Starmer's defining new direction is the similarity between a standard government bond and his new "innovative" British Recovery Bond.
Many have noted that, if his bond works to target individual projects, it will be remarkably similar to existing "Green Gilt" bonds. There is also the similarity between his bond and the already existing National Savings and Investments bank, which is publicly owned.
Starmer's economic plan was born out of weeks of criticism over a lack of policy direction for his Labour Party. Reeling from the rejection of Corbynism, we can see pro-business rhetoric in the speech with statements such as "this is no time for tax rises on businesses and families either". However, pro-business rhetoric isn't what the hard-left of the Labour Party wants to hear.
From the right, Starmer's policies are too similar to be "innovative" and from the left, they are too pro-business to be up to Labour values. The question now is whether Starmer will rally Labour to come back from this devastating setback, or will be handing Johnson another path to election victory?