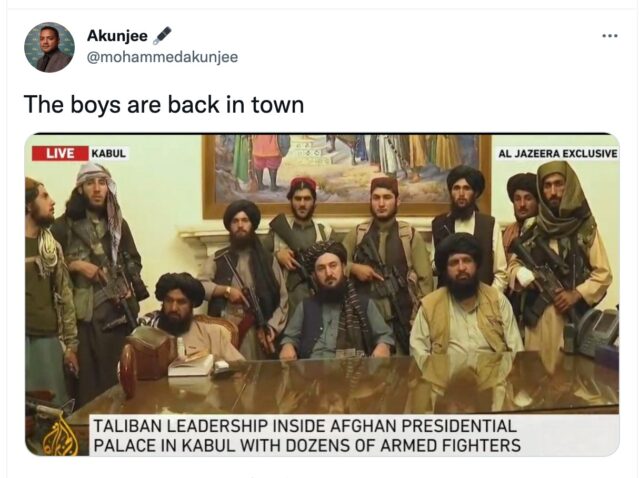 ISIS Bride Shamima Begum's criminal defence lawyer, Tasnime Akunjee (@mohammedakunjee), has posted a tweet celebrating the return of the Taliban in Afghanistan.
Akunjee posted on his Twitter a photo of the Taliban in Kabul's abandoned presidential palace with the caption: "The boys are back in town".
Kabul has just fallen to the Taliban and Taliban insurgents have already begun indiscriminately executing civilians, including hanging them from motorways. The Taliban are an oppressive and violently sexist group who have previously executed girls for attempting to have an education, as well as sexually enslaving women.
Tasnime Akunjee, a consultant for Waterfords Solicitors, specialises in terrorism law and has previously defended one of Drummer Lee Rigby's killers. Lee Rigby was a British soldier who was violently stabbed to death in Woolwich in 2013 by Islamic extremists. The killers claimed they carried out this horrific murder to avenge the killing of Muslims by British armed forces.
British-based organisations that have previously supported the Taliban such as the 'Tehrik Nefaz-e Shari'at Muhammadi' are proscribed, but Mr Akunjee, a defence lawyer who has to abide to a strict legal code of ethics, is openly celebrating the Taliban. Several Twitter users have reported him to the Solicitors Regulation Authority (@sra_solicitors), however it is unclear at the time of writing as to whether Akunjee has breached legal conduct rules and whether he will be investigated or not.

Akunjee is followed by several prominent left-wing political figures, such as Owen Jones and the Labour MP for Streatham, Bell Ribeiro-Addy.