Access to the rich, upcoming and younger economies of the Asia-Pacific region has always been sorely restricted under EU bureaucracy, with extensive regulations for British companies. With Brexit trade deal deadlines looming on the horizon, the UK Government is aiming to sign trade deals with strategic economies beyond the continent. Additionally, these deals are focused on technological partnerships and Japan's trade deal is reflective of this pioneering policy.
In the previous EU-Japan deal the UK was obliged to effectuate, the free flow of data was heavily restricted. Under the new deal, data can be easily transferred between the two countries outside the EU, while maintaining a similarly high standard of data protection.
This, in turn, will pave the way for up-and-coming UK fintech firms operating in Japan – like Revolut and Transferwise – to innovate and grow beyond the scope of the continent. Additionally, International Trade Secretary Liz Truss commented: "From our automotive workers in Wales to our shoemakers in the North of England, this deal will help build back better as we create new opportunities for people throughout the whole of the UK and help level up our country", according to a BBC report.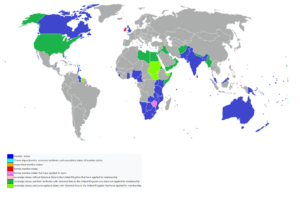 What remains to be seen is the enthusiasm of Commonwealth countries for striking up potential trade arrangements with the UK. According to the Commonwealth Secretariat (Comsec) and Trade Law Centre for Southern Africa (Tralac), the UK's top ten Commonwealth export destinations account for 8% of its goods and services trade.
The document goes on to state: "It is often claimed that countries will not want trade deals with the UK. This is untrue and must be dispelled. The UK is the fifth-largest economy in the world and a P5 UN member. A trade deal with the UK is a geostrategic prize, which would appeal both to emerging and developed economies. In the days and weeks after the referendum result, a number of Commonwealth nations expressed interest in trade talks. These include India, Australia and New Zealand."
Australia might quite possibly be the next country to strike a free trade agreement in record time with the UK by the end of this year, as reported in the Financial Times. There are also calls for other Commonwealth countries to be given a high priority on the list of negotiations, such as Canada and India. India happens to be the UK's largest Commonwealth export destination and has in the past asked the British Government for a trade deal instead of controversial foreign aid.