Jarel Robinson-Brown, a self-described "aspiring scholar", has taken to Twitter to insult those paying their respects to the late Captain Sir Tom Moore.
Robinson-Brown followed in the steps of notorious communist Ash Sarkar, and took to social media to accuse those supporting Captain Sir Tom Moore of being in a "cult of White British Nationalism".
The clergyman also turned off comments and replies to his tweet – which has since been deleted – as the initial backlash in the comments did not reflect his opinion.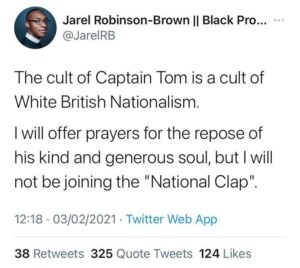 Robinson-Brown, who is also an associate chaplain at King's College London, offered his prayers "for the repose of his kind and generous soul", but said he would not be joining the National Clap, which the Prime Minister led at 6pm this evening.
Jack Ross, the COO of Turning Point UK, labelled this "bonkers", and stated that "people like this need to be referred to anti-racism services".
A petition has since been launched on Change.org to demand Robinson-Brown's removal from his Church of England role in response to this incident.
If you ever needed any evidence to show how bonkers the new left are.

The man claims to be against racism but dislikes Captain Sir Tom Moore because of the colour of his skin.

People like this need to be referred to anti-racism services. https://t.co/vpgXodC2VN

— Jack Ross (@JackHFRoss) February 3, 2021
This followed a tweet made by Ash Sarkar, who claimed that those mourning the death of the 100-year-old World War Two veteran, who raised £32.8 million for the NHS, had "spent the last year downplaying coronavirus deaths".
The 28-year-old communist also claimed that "you can't celebrate a 100-year-old man for doing something extraordinary, whilst at the same time brushing off 100,000 people".