Aysha Khanom, an Associate Professional & Academic Advisor at Leeds Beckett University and founder of The Race Trust, has labelled political commentator Calvin Robinson a "house n*****" and called him "a mascot of white supremacy".
On Sunday, The Race Trust, founded and directed by Aysha Khanom, tweeted out asking whether or not it shamed Calvin Robinson that he was seen by "most people" as a "house n*****".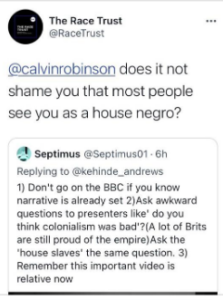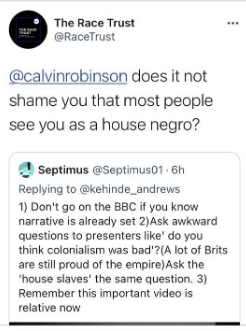 The Point News reached out to Calvin for comment and he had this to say: "The most prevalent form of racism at the moment is that of the hard-left towards anyone who doesn't agree to play by their script. My 'lived experience' is of no interest to them, because I don't subscribe to their approved narrative. They don't control me and that offends them more than anything."
In exclusive messages seen by The Point News, Aysha Khanom confirmed that The Race Trust Twitter page had been "deactivated for now", because she "can't risk its reputation being ruined".
She claimed he was "a disgrace" and that she believed she was saying "what everyone thinks".
She also stated that she will be "back with vengeance" and that she has "no shame in [her] views".


She also said that he is "only a mascot of white supremacy" and claimed that it was "his whole attitude" that merited this title.

The Race Trust is a non-profit organisation that aims to "empower young people to understand and overcome the challenges they may face in a society which is still not equitable with regard to their ethnic backgrounds". They provide racial literacy training for teachers, curriculums and children.
Ms Khanom's employer has been contacted for comment, but has not yet responded at the time of writing.
UPDATE @ 17:30: Leeds Beckett University, which is not Ms Khanom's direct employer, now appears to have quickly terminated all association with her. The following tweet appeared very shortly after this story was published and subsequently tweeted by Mr Robinson:
Aysha Khanom is not an employee of Leeds Beckett University and we have terminated all association with immediate effect. The university strongly condemns the use of racist language. We stand united against racism and in our support for anyone who experiences racism.

— Leeds Beckett (@leedsbeckett) February 15, 2021