The latest national poll of the current party standings has been released, showing a widening Conservative lead over Labour.
The poll shows the Conservative Party pulling away from the pack with an increased lead. It also shows Labour falling away.
The poll was conducted by YouGov, but was released as an exclusive by The Times.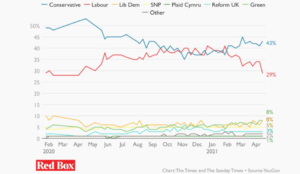 The Conservative Party, according to the poll, had a 14-point lead over the Labour Party. The Conservatives are currently polling at 43%, whereas the Labour Party have dropped to 29%.
The poll comes amidst the ongoing vaccine roll-out, which is being hailed as a major success story. This will also raise concerns about the leadership qualities of Labour leader Sir Keir Starmer, whose leadership has come under scrutiny recently.
It also comes prior to a by-election in Hartlepool on 6 May, coinciding with the local and Mayoral elections, which is being seen as gauge of Sir Keir's leadership. Hartlepool has not been won by the Conservatives in fifty-seven years.
However, in the 2019 General Election, Labour's Mike Hill was re-elected with a 3,595 majority. The Tories came second, only 1,266 votes ahead of the Brexit Party. The result in Hartlepool will help to shine a light on the causes of the 2019 election defeat and whether the traditional Labour Red Wall's support for the Tories in the last election will become a more permanent phenomenon.
Mr Hill had stepped down from his position following accusations of sexual harassment.
This poll, therefore, will undoubtedly lead to further pressure on Labour going into the by-election.
The poll also showed that the Liberal Democrats and the Green Party were level, heading towards 8%. Reform UK, according to the poll, is holding at 3% nationally.