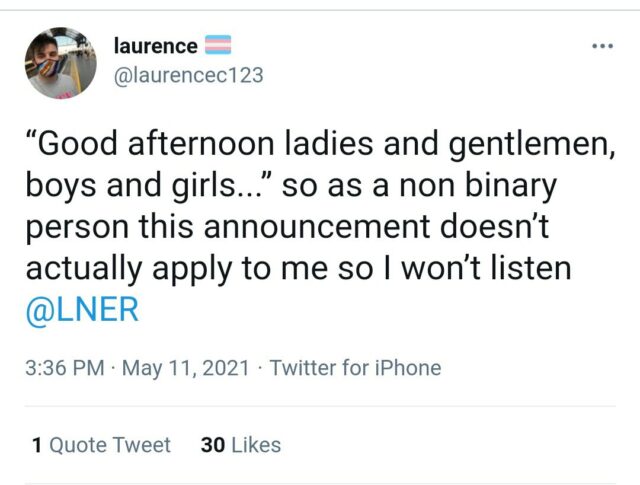 LNER were called out on Twitter by a "non-binary" individual who did not appreciate the greeting.
The LNER tramline service made a customer announcement, as any train service does, and has come under fire from a "non-binary" individual who did not feel the announcement applied to them.
@Laurencec123 was not impressed with the comments and made their position clear to LNER. The tweets were shared by Paul Embery as the original tweet is now protected.
As shown above, LNER responded quickly and offered a sincere apology. They strive to be "inclusive" at LNER, and subsequently offered to communicate with Laurence to ensure his views felt accepted. However, what some have pointed out is that "non-binary" is not a protected characteristic in the Equality Act, and therefore LNER need not respond, which has angered those who advocate for Disabled Rights, or Disability Inclusions on services, such as transport.
It has also been pointed out that Laurence who supposedly reported the worker for their greeting is also a representative of the National Union of Rail, Maritime and Transport Workers. Which would mean that a Union Representative is attempting to get a worker in trouble with their boss, as pointed out by this Twitter user: