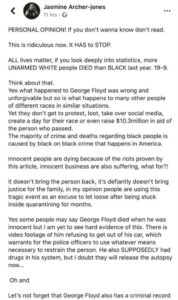 Miss Swimsuit UK has been stripped of her title after criticising the Black Lives Matter movement
The winner of the Miss Swimsuit UK competition has had her title revoked after a recent post published on Facebook relating to the Black Lives Matter movement.
Jasmine Archer-Jones, the current reigning champon of the contest, published a status update on June 3 relating to the wave of protests sweeping the nation under the Black Lives Matter banner. 
23-year-old Jasmine Archer-Jones questioned whether the protesters were genuinely concerned about the death of George Floyd or simply using his murder as an "excuse to let loose".
She also gave commentary on statistical breakdowns of race-related deaths in the US and the arrest of George-Floyd in recently-deleted Facebook posts, stating:
"If you look deeply into statistics, more UNARMED WHITE people DIED than BLACK last year." 
"There is video footage of him refusing to get out of his car, which warrants for the police officers to use whatever means necessary to restrain the person."
"He also SUPPOSEDLY had drugs in his system, but I doubt they will release the autopsy now… Oh and let's not forget that George Floyd also has a criminal record dating back to the 90s."
The post also questioned the impact of the protests on ordinary people and the validity of the protests, stating:
"Yes what happened to George Floyd was wrong and unforgivable but so is what happens to many other people of different races in similar situations. Yet they don't get to protest, loot, take over social media, create a day for their race or even raise $10.3million in aid of the person who passed. The majority of crime and deaths regarding black people is caused by black-on-black crime that happens in America"
Cancelled
Jasmine Archer-Jones won the 2019/2020 title last September, but the Miss Swimsuit UK contest has since removed all traces of her from it's official website.
She has also received terrible abuse from left-wing trolls on social media over her rejection of left-wing views and idealism, in an apparent attempt to silence her in the most recent example of the "Cancel Culture" that is sweeping the nation.
Miss Swimsuit UK has yet to comment on the matter and has offered no explanation for removing Jasmine Archer-Jones' title or deleting her from its website and social media profiles.