If Boris wants to level up the entire country as he as stated, then he should start in the North of England. With its key position close to Scotland, Wales and the Midlands, in addition to a project already in the works, it's the perfect place to begin.
The Coalition government of David Cameron and Nick Clegg proposed the creation of the Northern Powerhouse infrastructure project. Its aim was to connect and develop the major cities of the North (Manchester, Liverpool, Leeds, Sheffield, Hull and Newcastle) and their surrounding areas.
The Northern Powerhouse Project can be used as a canvas to fix long-term issues that have affected the United Kingdom for generations, such as deprivation in northern cities, regional representation and boosting our manufacturing base for future trade deals. According to the Institute of Public Policy Research (IPPR), over 54,000 manufacturing jobs have already been created since the project was started 5 years ago.
New mayors and better communication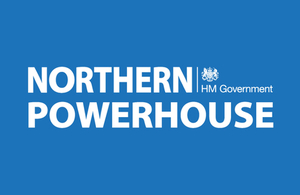 More devolution in the form of city mayors (like in Manchester) and advocacy groups (such as Blue-Collar Conservatives), working with the Minister for the North of England (Jake Berry), could help solve the decades of bad decisions from Westminster. Appointing more city mayors with a clear set of powers, and giving the Minister for the North clear goals, would mean much more effective communication between Westminster and the region as a whole. This would lead to better local and regional policy solutions and therefore give the North a bigger voice at the heart of government.
How to do high-speed rail right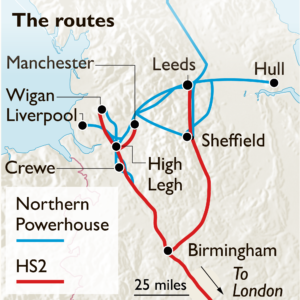 The northern transport system has been severely underfunded, with no vision behind it. The Northern Powerhouse hopes to change this by implementing a new, modern, high-speed rail network (HS3), carrying updated models to connect up the large cities, from Liverpool to Hull and going as far north as Newcastle. Electrifying the existing networks would greatly improve the overall northern transport network and turn it into a thriving economy.
A better rail network across the major cites would lead to better jobs and leisure opportunities, which would also reduce the exodus of people to London and the south-east. If people stayed up in the northern towns and cities, this would improve regional development and help solve the large north/south divide across the UK.
HS2 funds should be diverted to improving the current network. It is a vanity project that will neither enhance Northern connectively, nor fix any of the region's long-term issues. The other major problem with HS2 is that a government might, due to spiralling costs, only build up to Birmingham and then abandon or delay the rest of the project. This has happened before, and would not only betray the people of northern England, but pretty much render the entire enterprise pointless.
The new northern tram network
An advanced, modern tram system, such as the Manchester Metrolink, could be the backbone of future plans to modernise and restructure northern cities for new business and tourism opportunities. Trams are an elegant and green solution to the problems that come with increased tourism and urban development, such as inner-city parking and overcrowded public transport. This could make more areas of cities pedestrianised and change the national and international view of northern cities.
People have criticised trams as being very expensive and bringing little real positive change to a transport network. These problems need to be looked at and investigated carefully to ensure that trams truly benefit the areas they are installed in.
Inspired by German traditions
As more students become disillusioned with the university path they are expected to go on, due to high costs and difficulty in finding a job, many are looking for other options. Vocational or technical courses have become a more popular option, but unfortunately spending on these has fallen and we are behind the rest of the world.
Germany has a well-established apprenticeship scheme, which is well-supported by schools, businesses and politicians alike and has meant that Germany has an unemployment rate of only 3.8%, compared to the UK's 4.4% (both pre-coronavirus). This is part of the German system of Mittelstand, whereby SMEs or slightly larger companies promote good values and specialise in specific sectors. As a result, young people have a better chance of getting a job and being employed long-term in companies like Mercedes-Benz.
Boris should work with universities and businesses to develop a scheme to help students work in these industries as an alternative to university. This would give students not only new skills and knowledge, but confidence as well.
Brittelstand, Freeports and Tax simplification
Brittelstand has long been backed by the CBI and could be the foundation that is needed for turning the North (and other parts of the UK) into the powerhouse(s) of the future. Brittelstand companies have between 10m-100m annual turnover (such as BrewDog and Pure Gym) and currently generate almost a quarter of the private sector's revenue. According to the CBI, proper investment in this sector would generate millions of pounds for the country.
The government should also work to help establish both old (but necessary) and new manufacturing companies in the North of England. Covid-19 has taught us that China is not a fair partner in international trade, and our eyes should be open to the change that is necessary. Continuing to rely on any other country to such an extent for things like raw materials is a national security issue that needs to be rectified.
Free ports are special economic zones with different customs rules, tariffs and/or tax rules to the rest of a country (such as the UK). These allow goods to be manufactured from imports and then re-exported without entering the country. The UK Trade Secretary, Liz Truss, has proposed creating 10 free ports to help create thousands of jobs across the UK. an advisory board has been set up to look into how best to implement them across the country post-Brexit.
Taking a leaf from the Brexit Party's "Contract with the People", one interesting idea that could be considered to help boost northern investment is to give businesses earning less than £50,000 an exemption from corporation tax, while replacing business rates with a simpler system based on an online sales tax.
Finally, an expansive Wi-Fi network would greatly help thousands of small businesses get off the ground or grow much more rapidly. In our much more interconnected world, the government investing in a non-Chinese 5G network is necessary to keep up with our competitors.
Future Powerhouses
If policies such as these (and others) are implemented carefully and with the necessary financial and political support behind them, they could turn the fortunes of the North of England around, making it an essential part of the UK's future prosperity. Due to the geography of the North of England, such successes could be replicated and expanded to other regions of the UK. The infrastructure system could be expanded into the Midlands. Representatives in Scotland, Wales, Northern Ireland and Cornwall could work with Westminster to develop their own models – playing to their individual strengths and weaknesses, fulfilling Boris' mantra of "levelling up" the country, and bringing together the entire United Kingdom.