President Trump and his wife Melania have both tested positive for COVID-19.
The White House has released a statement from Trump's physician saying the President is "fatigued but in good spirits", after both Mr Trump and his wife tested positive for coronavirus. The president has "mild" symptoms, including a "low-grade fever", and is now in quarantine. He is now in a military hospital as a precautionary measure.
Walter Reed Military Hospital has been a noted venue for the treatment of US Presidents in the past.
Trump has been criticised for his handling of the virus, which is responsible for the deaths of over 200,000 Americans and has infected over 7.3 million. However, The President has also accused the Democrat Party of "politicising the coronavirus" and described it as "their new hoax".
Many have taken to social media to wish the President a speedy recovery and to show their support. World leaders have also expressed their condolences.
UK Prime Minister Boris Johnson, who required hospital treatment in April after he fell ill with coronavirus, wished the First Couple well. He tweeted: "My best wishes to President Trump and the First Lady. Hope they both have a speedy recovery from coronavirus."
Johnson, 56, spent three days in intensive care in a London hospital during his own bout of the disease.
President Trump is understood not to have transferred power to Vice President Mike Pence, as of the time of writing.
Israeli Prime Minister Benjamin Netanyahu, a close ally of Trump, tweeted: "Like millions of Israelis, Sara and I are thinking of President Donald Trump and First Lady Melania Trump and wish our friends a full and speedy recovery."
However, some people have taken to social media to show their delight at the news, with some referring to it as "karma". Actor Dominic West, during an interview on Good Morning Britain, stated: "I did slightly leap in the air with joy", when he heard of the news.
Zara Rahim, the former Obama White House staff member and Hillary Clinton's former 2016 national spokeswoman tweeted her own joy, saying: "I hope he dies".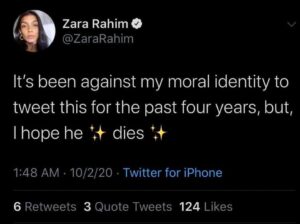 According to a Morning Consult Poll, 40% of Democrats are "happy" that President Trump has contracted the coronavirus.
Such reactions have sparked a defensive response from Piers Morgan, who responded by saying: "Interesting to see those who've spent the last few years screaming that Trump's an uncaring, heartless empathy-devoid b*stard, now spewing their gleeful joy that he and his wife have a deadly virus. They're no better than the man they loathe."