Emily Murphy is the chief GSA Administrator for the United States Federal Government, and it is her job to certify the transition of the President-Elect.
To date, she had refused to do so, citing the fact that multiple states are still contested, and many legal challenges are yet to be resolved.
See below: Catherine Herridge Tweets and letter to Biden confirming threats and abuse.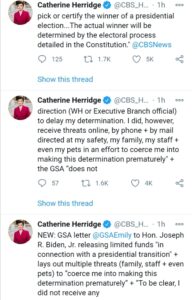 Due to this obstinate adherence to the constitutional processes that she is duty-bound to uphold, Emily Murphy has been threatened by those who wish to see the Democratic nominee Joe Biden take the Presidency.
Like the election officials in Michigan and Pennsylvania, threats are being leveled by left-wingers and Democrats when those with the responsibility to oversee elections seek reviews and audits of electoral practices.
Trump's tweet announcement
The President of the United States Donald Trump has come out in support of Mrs. Murphy.
It is hardly a sign of strength that the left feels the need to pressurise and intimidate election officials in this manner.
Watch video: Republicans harassed until they conceded